New!!! Vocal Musician Weekly!
Get your weekly Vocal Musician fix with this subscription course!
Mastering the Blues and Pentatonic Trailer
Check your inbox to confirm your subscription
"Try Vocal Musician and watch your talent soar."
Joshua Thompson, Producer/Composer (Alicia Keys, George Benson)
"Kate and Elisabeth are really onto something here. It is not enough just to sing well. Musicianship is key to communicating and truly connecting through music. I refer all my students to this course, especially those who have an underdeveloped sense of basic musicianship and ear training. Finally, somebody has put together a training of truly essential skillsets in a well-organized, comprehensive and efficient regimen. It is wonderful to watch them get closer to what it is to be a musician as well as a singer."
Melissa Cross, Author of "The Zen Of Screaming", Voice Teacher, New York City 2021
"Vocal musician is a crucial learning aid in the search for understanding the musical elements of singing. Imagine a carpenter with no hammer, nails or tape measure. Kate and Elisabeth give you the "tool box' for making great music whether you are a live performer or a studio singer. With this systematic development you can build your skills continually regardless of your current skill set. I highly recommend this system. It works. Try Vocal Musician and watch your talent soar."
Joshua Thompson, Producer/Composer (Alicia Keys, George Benson)
"This is an absolutely brilliant resource for any vocalist wanting to fill in the gaps in their musicianship—from hearing through the changes to ear training to song writing. Kate and Elisabeth have come up with a real system geared to the vocal musician. I wish I'd discovered it sooner."
Tessa Souter, Jazz Vocalist
"I have a college-age student with an auditory processing disorder who's had intonation challenges for the past year of lessons. He couldn't sing "do" accurately in any key. After less than two weeks working in this program, his intonation is clearly improving, AND he is also increasing his ability to hear when the pitch is off-center even when I don't tell him. Thanks so much for creating this rich resource, Kate and Elisabeth!"
Cara Transtrom, Voice Teacher
"Elisabeth and Kate have found a meaningful and sensible way to unlock musicianship skills for vocalists.  I teach a Musicianship For Vocalists class at the college level and I will be suggesting this program to my students."
Steven Santoro, Vocalist, Professor for Jazz Voice at Berklee College of Music, Boston
Learn the language of music, from the ground up. Explore Music Theory, Songwriting, and Improvisation. Our courses are suited for homeschooling and supplemental study for voice students and singers. Solfeggio, Ear Training, learning songs, and improvising are big building blocks of our methodology. As vocalists we often have a different style of learning from instrumentalists, a fact that is often overlooked. We can't press a button to create a pitch (instead we need to hear it and know it ), see what we're doing with our voices. Often we simply learn music by ear. But communication with fellow musicians is key. The language of music helps us to be excellent communicators onstage or during rehearsals, and to become sought after performers and recording studio singers.
The courses at our online music school are created BY vocalists FOR vocalists. We are looking forward to helping you learn the music tools you need to be an excellent Vocal Musician.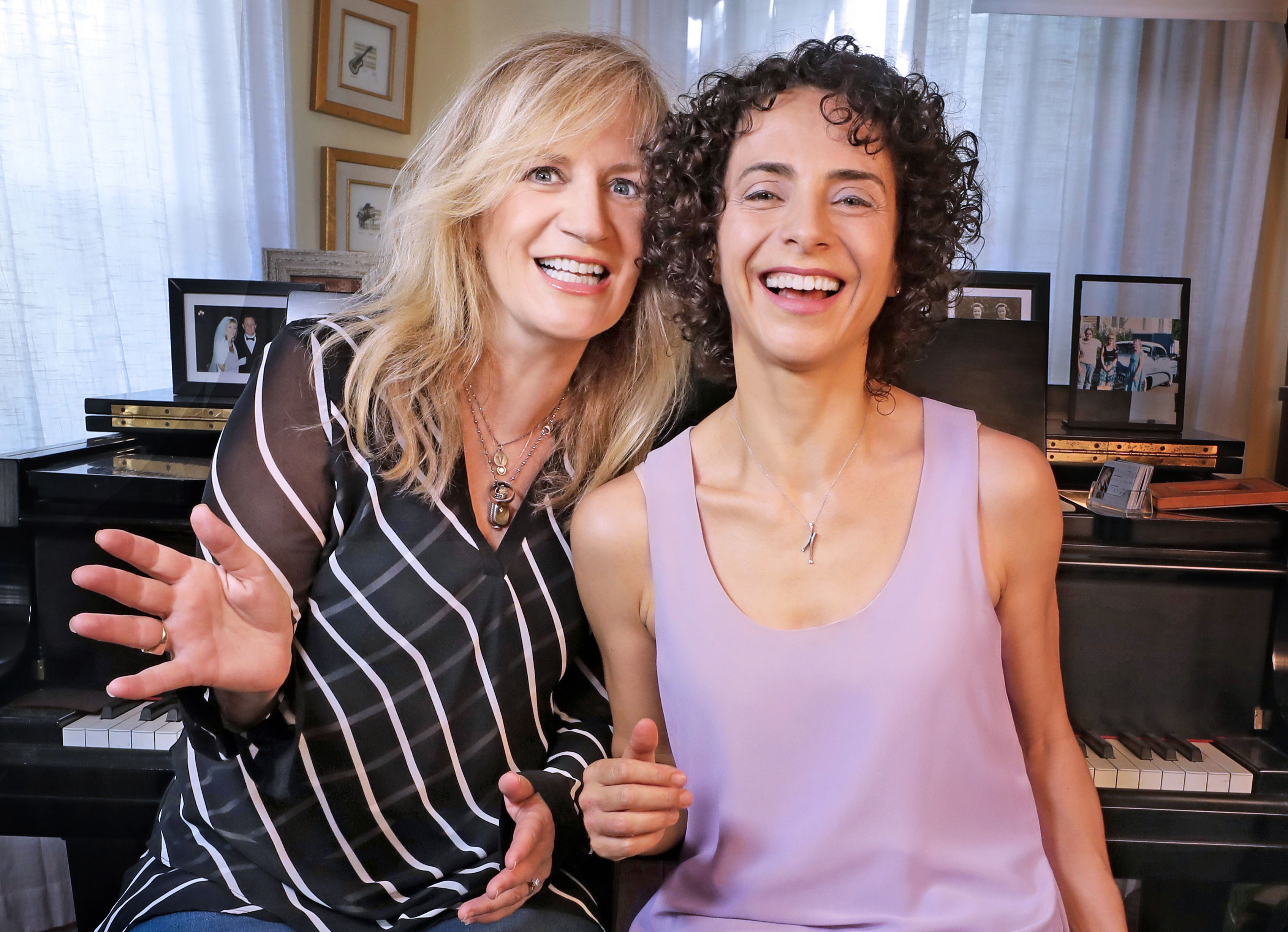 Hello from Elisabeth Lohninger and Kate Baker
We are the founders of Vocal Musician, a virtual music school dedicated to creating and presenting courses and coachings by and for vocalists. With many decades of performing, touring, recording and teaching between us, we look forward to sharing what we have learned over the years.
We are excited to present courses on Vocal Musicianship, and all things Voice and Music related. We also offer one-on-one and group coaching in the areas of Music Theory, Ear Training, Improvisation, Vocal Technique, Songwriting, and Repertoire Work. Connect with us! Let us know how we can help you bring your Vocal Musicianship to the next level.
See you online.
Photo Credit: Christopher Drukker
"Vocal Musician is very cool. Using a jazz music approach, my students learn music theory, solfege and ear training. The video tutorials and their singing is great!"
Bonnie Pomeroy, Middle School Chorus Teacher
"The course is very conscientiously structured. Many essential basics that I haven't practiced that thoroughly before myself (despite decades of being an active singer). It is great to be taught alternately by Kate and Elisabeth because they have different personalities and approaches. A great advantage of the online course is the ability to work at one's own tempo. Although parts of the course are basic, the exercises with different backing tracks are super helpful."
Sabine Zimmermann, vocalist, Germany
"When I got into vocal trouble I didn't know where to turn, but once Kate started to work with me I knew I was in great hands.  The results were fast and lifechanging.  Her knowledge of the vocal apparatus and the ability to return singers to good health is exceptional and I have been in good hands ever since." 
Melissa Walker, Grammy-winning vocalist
"I am a professional opera singer and have been performing for the past 20 years in Europe and especially Germany. I've always been fascinated by jazz and wanted to explore this genre of music with all of its intricacies. I was especially interested in working on improvisation, but also very hesitant because of my lack of experience. Elisabeth gave me some very useful suggestions and exercises I was able to instantly put into practice. Knowing that I am a professional opera singer, she was very careful not to try and get me to completely change my sound, but with some minor adjustments was able to help me achieve a bit more of the vocal quality expected in jazz and pop music. She has my highest recommendation as a vocal teacher."
Christina Clark, Opera Singer