Veteran Jazz vocalist Elisabeth Lohninger pulls back the curtain on what it takes to have a vocally successful tour. Culled from 20 years' experience as an independent, touring vocalist, the book is structured in 2 parts: part 1 with the nuts and bolts of healthy touring that leaves the singer with both their voice and their body, mind and spirit intact after a tour; and part 2: a collection of stories from the road. Darkly funny, self deprecating and disarmingly honest, the stories range from the mundane (vacuuming the hotel hallway at 6am is a hotel rule!) to the existential (voice? what voice???). Singer's Survival Guide to Touring is informative, laugh-out-loud funny and heart-breakingly real. This book is for singers and anybody who ever wanted to know what it's like to be a touring vocalist.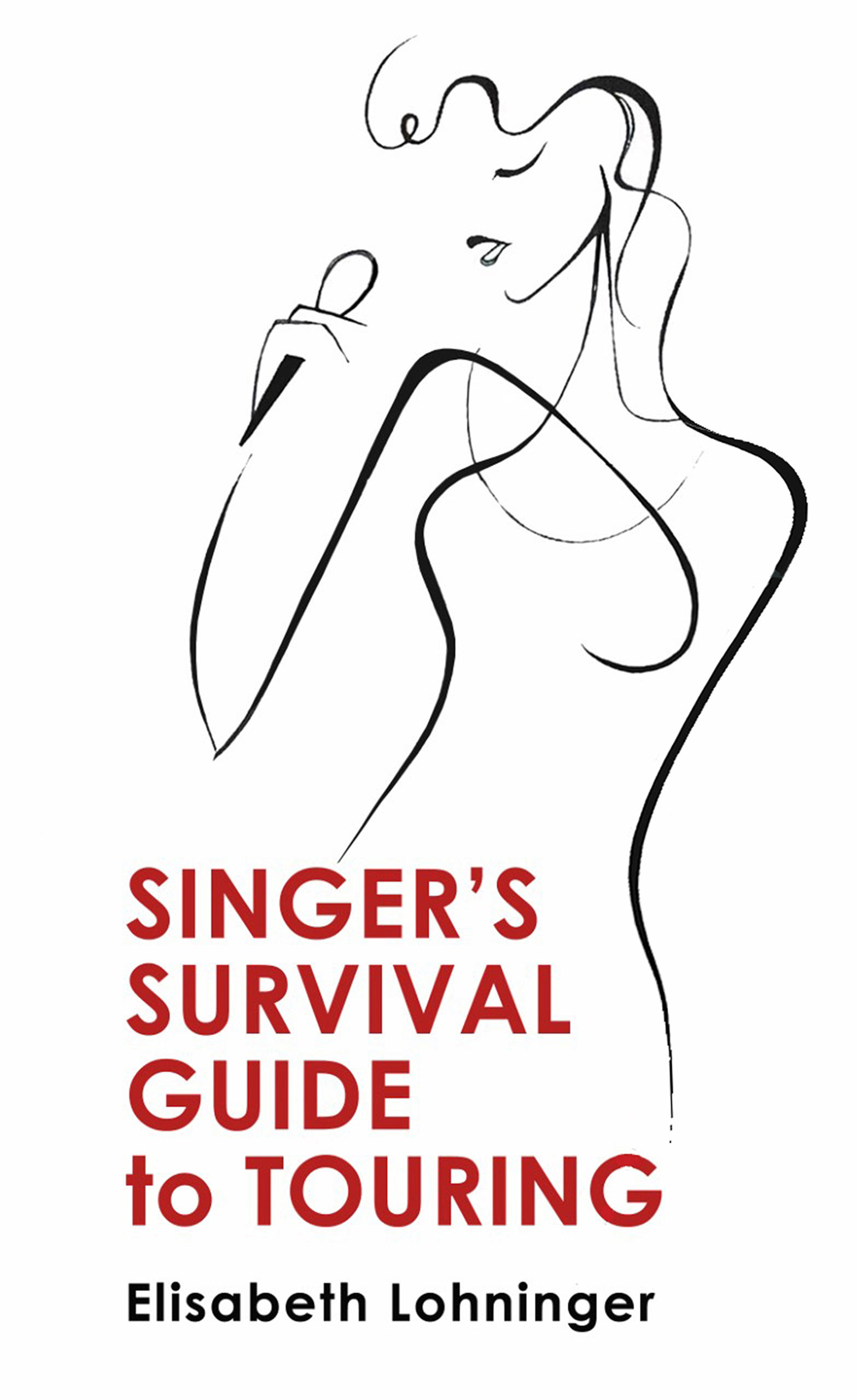 "This book TOTALLY saved me this week!
I was so excited for the gig I had last night, but for a couple weeks prior my throat was really sore. Not Covid, thankfully, but a dry, sore throat and cough. It hurt even if I just talked too much (haha, which I do all the time!) I tried vocal rest, water, tea, vitamins... all my normal fixes. But nothing worked. I remembered I had this great book that I read pre-Covid. Well this week, I ran for the book to look up "the panic bag" chapter. So many great tips and throat saving tricks! I was able to recover my voice in just a few days and sang 4 sets last night with ease. Thank you, Elizabeth! (Singers: you must get this book!)" - Pretti Mini (Amazon review)
"You don't have to be a singer...
Singer's Survival Guide is exactly what you'd hope: an enlightening, entertaining look at the trials and tribulations of the touring musician - and a textbook on how to survive them.
Lohninger tackles the hazards of flying, traveling in a tour bus, touring with a cold, equipment hassles, bus break-ins and breakdowns, untimely belches (really - I laughed out loud) and band members who never think they're mixed loud enough. Her prescriptions and suggestions are road-proven, both practical and empowering.
As a non-musician (I write books), I was surprised at how valuable both the philosophical and practical advice was. I don't tour, I don't worry about my throat, but Lohninger's outlook toward staying healthy and keeping your eyes on the prize were totally relatable to any creative field or anyone with a desire to be the best they can be.
This book is both a breezy entertainment and a model of professional creative discipline. A great read!

Lohninger's book goes a long way beyond simply giving the nuts and bolts of being a touring musician and bandleader.
"Singer/composer/arranger/bandleader/teacher Elisabeth Lohninger adds published author to her credentials with Singer's Survival Guide to Touring, a primer on how not to lose one's mind (and health) as a touring musician. ... [It] is a slim how-to book on what to do and not do as a touring singer, as well as a selective memoir of some of the more notable experiences she and her band have had while on the road. Her writing is pithy and unadorned, as I would imagine a conversation with her to be.
... Lohninger's book goes a long way beyond simply giving the nuts and bolts of being a touring musician and bandleader. ... What Singer's Survival Guide to Touring reveals between the lines is that making quality music is hard, demanding a talent, ability, and dedication, and requiring much energy, physical, and emotional resources. Lohninger has tips on how to maintain all of these elements and does so with a good, clear-eyed humor. 
... Lohninger's anecdotes from the road remind me of those adventurers climbing mountains and crossing glaciers, pushing themselves to such a physical and emotional limit that even the smallest hiccup could have dire consequences. ... Lohninger obviously loves what she does and makes the reader appreciate what it takes to create what she does. We should be grateful." C. Michael Bailey, All About Jazz